What You'll Need to Outsource Your Box Build to an Electronic Manufacturer
Posted On February 4 2022
You have options when it comes to your electronics. If you need complete system integration, a box build may be the perfect assembly solution for your project, and outsourcing this to an experienced electronic manufacturer is a great idea.
In the world of electronics, a box build is a relatively new concept. It is a type of systems integration that entails putting everything required for your PCB electronics (cables, din rail, etc.) together in a housing. The box can be as simple as a PCB in a small enclosure or as complex as a large cabinet full of wires for an electromechanical system with complete electronics and pneumatics.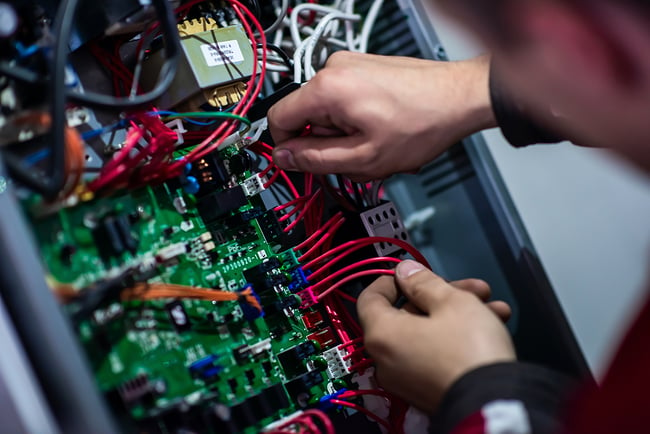 Once you've determined a box build is the way to go for your PCB project, you'll need to be sure you have everything in order before you proceed. Here is everything you'll need to outsource your box build:
BOM
A Bill of Materials is the first thing your manufacturing partner will need to move forward with your box build. The BOM should include all of the major parts and components your project requires. You will need to specify which components you will provide, and which parts your ECM will need to source for you.
The more details you provide, the more you are guaranteed your project will successfully move forward. Including how many of each component is needed will help. Bolts, nuts, tie wraps, washers, adhesives, heat shrinks, and other small components can also be described.
Detailed Drawings
You will need to submit detailed drawings so your ECM can properly prepare for your box build. A layout plan should be included showing where major components will be routed. Finishes and tolerances must be specified on all component drawings for custom-made items as well. These things can cause confusion and errors during the assembly process if they are not stated clearly.
Schematics
Electrical systems necessitate schematics. This means your ECM will need circuit diagrams in order to determine the best build method.
Specifications
Your manufacturing partner will need to know what the dimensions of your completed device should be. The size and weight of the device must be determined in advance. This will help your ECM make storage, material handling, and shipping decisions during the box build assembly process. These specifications will also affect shipping, handling, storage, and subsequent installation at your destination facility.
Testing Requirements
You will need to specify electrical system safety tests for your device. This is, perhaps, the most important part of the box build assembly process. Testing can range from complex tests to basic tests, like ground fault and lightning tests. You must state the basic electrical safety testing method that will be used.
You should also consider whether you may also want to run functional tests or perhaps a factory acceptance test, or a simple visual inspection before shipping to an end customer. Your ECM may offer suggestions if you are having trouble deciding.
Having all of these items in order will help make your box build goes smoothly with your electronic manufacturing services provider. Outsourcing box build assembly entails collaborating closely with an ECM you can trust to ensure that all of your project's requirements are met to your satisfaction. Levison Enterprises understands your requirements and can create a custom box to meet them. We can also suggest design changes that will make the manufacturing process easier and less expensive. Contact Levison Enterprises today to learn more about how a box build assembly can help you with your next project.